I made this tote as a Christmas gift for a cousin who likes Doctor Who, but I really like how it turned out and wish I had one for myself! Even without the TARDIS, it would still be a really cool outer space image. Or you could even put something random floating around in space instead of the TARDIS…like a cow, perhaps (haha). Here's what I did. I made it all up as I went along, so I'm happy it worked out so well.
SUPPLIES:
canvas tote bag (find at a craft store)
acrylic paints in blues, purples, black, and white
paint brush(es)
cardboard the size of the bag (to slip inside it while working)
(optional) TARDIS or other stamp
STEPS:
1. Wet the area of the tote bag that you plan to paint. I just used a paint brush to dab the water on. Slip a piece of cardboard in the bag so the paint won't seep through onto the other side of the tote.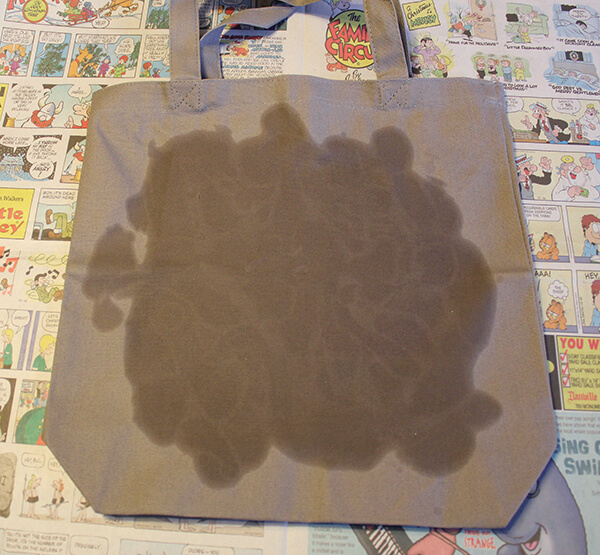 2. Get a cup of water and prepare your different paint colors. I used a dark and light blue, a dark and light purple, and black. using a wet paintbrush, dab paint all over the bag (the wet area). Using a different paintbrush, dab water all over the paint you apply. The water thins out the paint so you can spread it around and give it that cloudy, galaxy-like look. Just keep applying paint and water (I used a lot of water) until you like how it looks. Keep in mind it will be lighter when it dries – all that water is making the fabric look a lot darker than it is.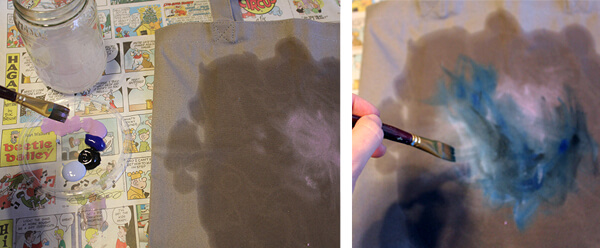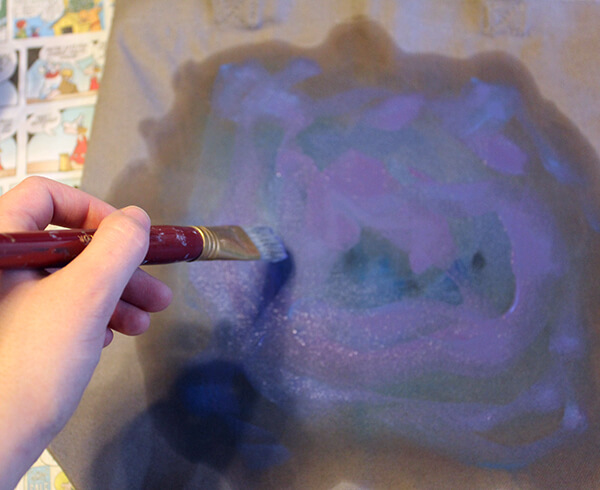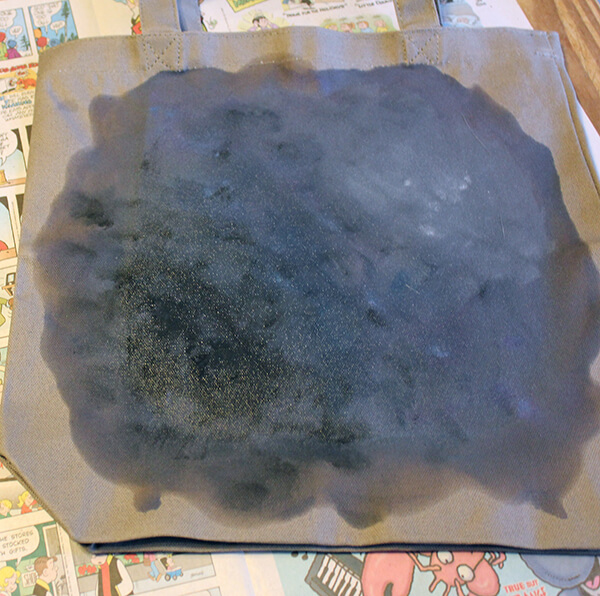 3. When the tote is dry, take it outside (this step is messy). Water down some white paint and do some splattering. Just dip a paintbrush in the white paints and flick it over the tote. Do this until you have a lovely, star-filled galaxy.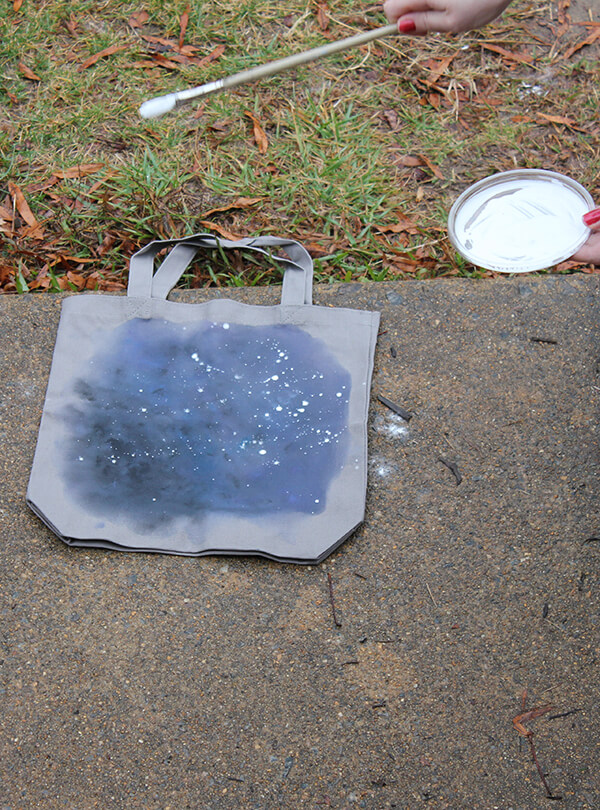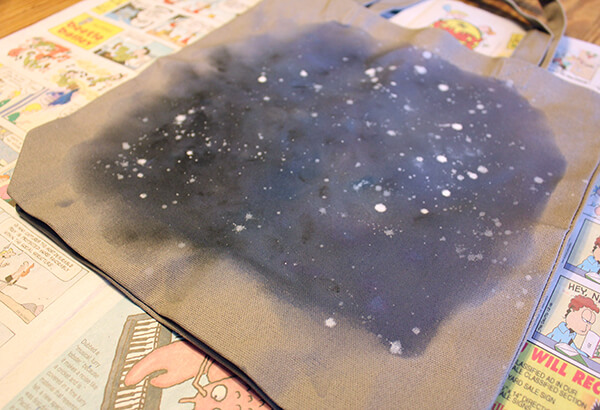 4. This step is optional…you can just leave the awesome space image as is if you like it that way or don't care about Doctor Who (gasp!). I had this TARDIS carving I did for a letterpress class, so I used that. You can probably freestyle the simple TARDIS shape if you trust your painting skills. Another option would be to get a linoleum block and carving supplies and make your own stamp (really not worth the effort…if you can carve, you could probably just freestyle the picture directly onto the bag a lot more easily). Put paint on the stamp and press it onto the bag. This just left a light coating of paint when I did it, but it provided a nice guide…I just went back over it freestyle to make the image darker and more clear.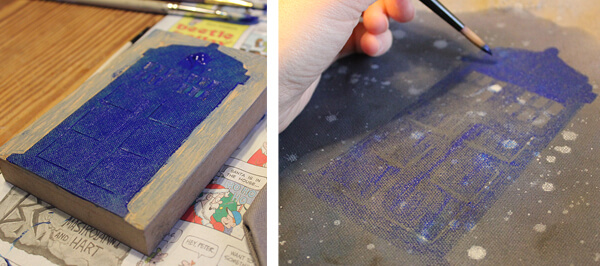 5. This step is also optional. Since I watered down the white paint for the stars, once it dried it was pretty faint. I went back over some of the stars with white paint (NOT watered down) to brighten them up. This also gives more dimension to the image – the brighter stars appear closer.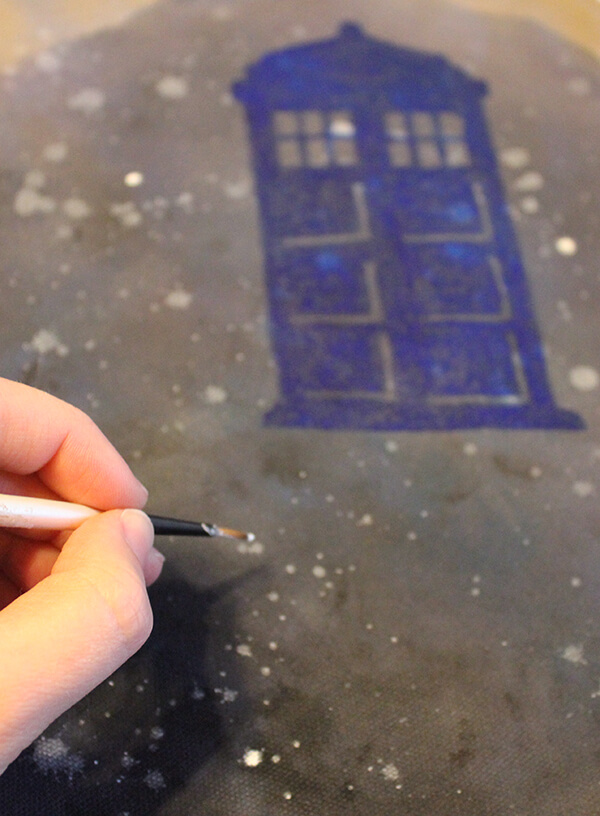 6. Enjoy your new tote (or give it as a gift like I'm doing)!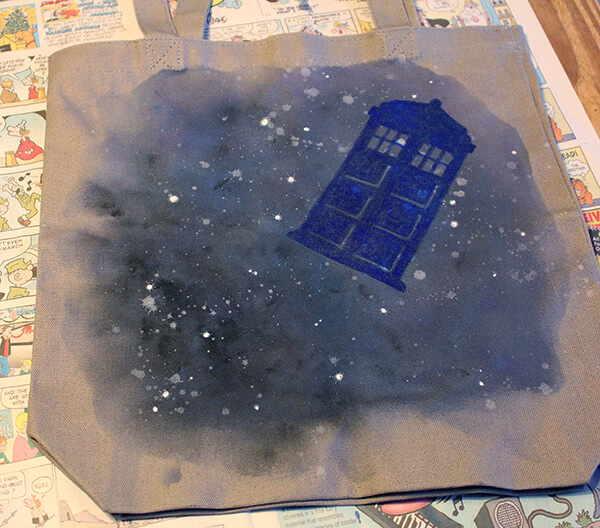 If you have any questions, please ask in the comments! I'll be happy to answer!