I have a huge box of polymer clay and supplies, but I rarely get into it and make things anymore. This week I decided to pull it out. Here's what I made and instructions on how you can make your own! I was feeling inspired after my post about the color of the year yesterday, so I went with an emerald color (a little closer to teal…but good enough). Like this DIY? Pin it on Pinterest to share it with your friends! Just click the Pinterest button at the bottom of the post. And remember…that button is on ALL of my posts, so pin away!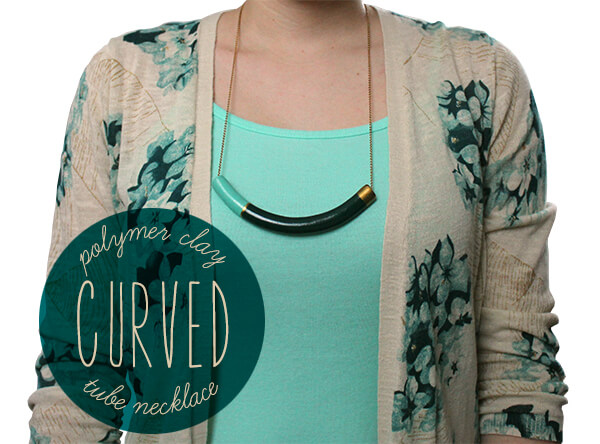 SUPPLIES:
2 colors of polymer clay (Fimo or Sculpey are good. You can find them at a craft stores.)
Metal skewer (or other metal rod about the same thickness)
Something to cut the clay with (I have a blade like this one but an Exacto knife or something similar would work fine)
Rolling pin
Paintbrush
Glossy Mod Podge
Optional: Pearl Ex pigment
INSTRUCTIONS:
1. Massage the clay in your hands until it's soft enough to work with. For the color that you want less of, use a ball about 3/4″ in diameter. The other color should be about 1 3/4″ in diameter. See the picture below for clarity. The squares on the cutting mat are 1 square inch each.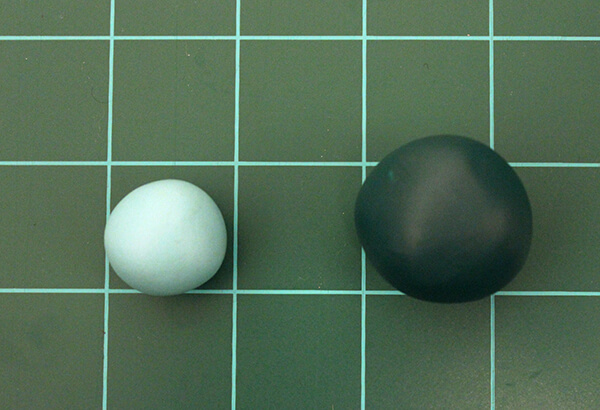 2. Roll each ball of clay between your hands until it's slightly oblong (oval). Roll them out with a rolling pin. Roll from tip to tip of the oval, if that makes since. You want to make the shape longer. Once the clay is pretty thin (around 2mm), cut off the edges so you have a clean rectangle. Gently press the two rectangles together (see below). Use your finger to carefully smudge the crease to hold the two rectangles together, but don't go overboard or you'll destroy that nice straight line. The two rectangles will adhere securely in a later step when you roll it out some more.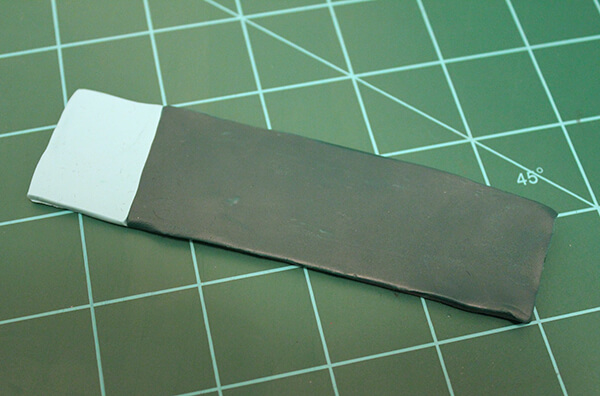 3. place the skewer on one of the long sides of your clay. carefully wrap the skewer with the clay. Cut off the extra. The edges should overlap just slightly.
4. Use the palm of your hand to gently roll the clay wrapped skewer on a clean surface (if your skewer has a handle at one end, it might make rolling it a bit difficult, but mine had a handle and I still managed). This will flatten out the bulk where the two edges overlap and start to blend them. Use your finger to smudge the clay to get rid of the seam.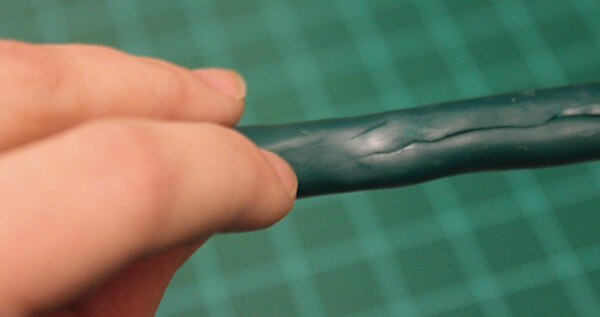 5. One the seam is gone, roll the clay wrapped skewer under your palm some more to make the shape clean and consistent and to get rid of finger prints.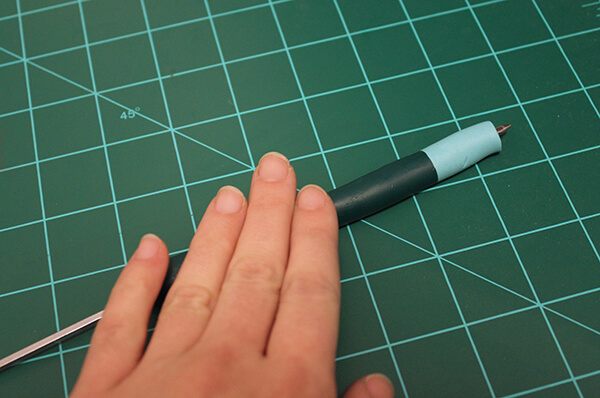 6. Use your cutting tool to cut off the uneven edges. You'll kinda have to work your way around the skewer carefully since you can't cut through the skewer. I did this while it was still on the skewer so I wouldn't squish the opening with the blade.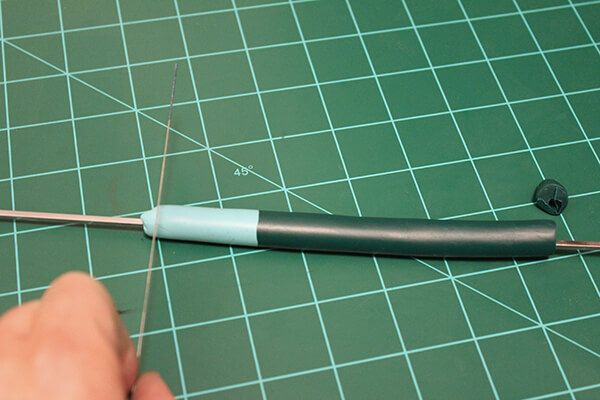 7. This step is optional. I found this metallic pigment powder from another clay project I did a few years ago and I though it would add a nice touch. I think I bought this at a craft store (Hobby Lobby?). Use a paintbrush to apply the pigment. Using a fine-tip paintbrush will allow you to create clean lines. I put a thin line over the seam where the colors meet and then I coated one end of the shape. If you aren't careful with this stuff, it'll stick all over your project.
8. Bend the shape to create a smile.

Place it on a cookie sheet and bake it at 275˚F for 30 minutes.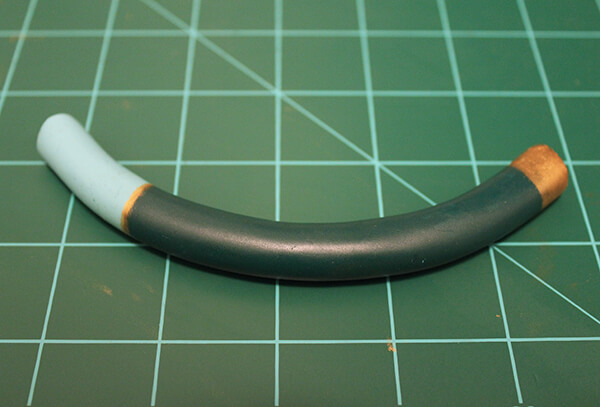 9. Once it cools, apply Mod Podge. The reason for doing this is because that metallic pigment will still rub off some even after your project is baked. The Mod Podge will seal it on. If you like the matte look of the clay, you can JUST cover the metallic parts with Mod Podge or you can use matte Mod Podge. If you don't use the metallic pigment, this step is optional.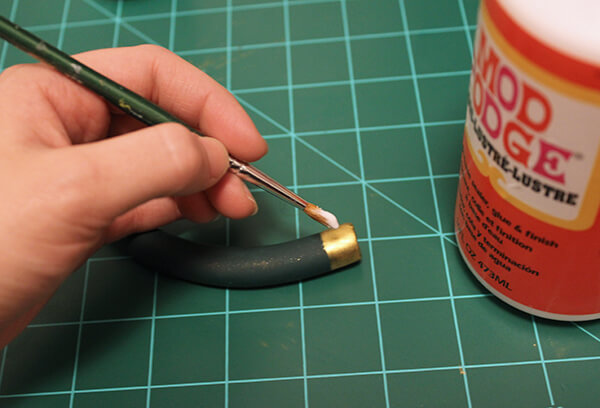 10. Thread a chain through the opening and wear your lovely new necklace! I tried both a short chain (below) and a long chain (top of post). Both have a pretty different look, so hopefully my pictures here will help you figure out which chain length you prefer. I think I like it long.