Being a designer, I love all things Pantone. I particularly love the fashion color reports…even though the reports include too many colors to really dictate what I wear, they're fun to look at because they have fashion designers craft looks around each color and provide a few words about it. I also really like that they choose a color for each year. It's fun to anticipate what that color might be. The Pantone color of 2013 is EMERALD! I LOVE this color.
Here's a little inspiration board I put together to start thinking about how to style this rich, lovely, bold color. I love that it's a color so abundantly found in nature, and it's also pretty timeless (don't you love those vintage photos I found?). I also think it's a color that works well for all seasons. It's rich and deep – perfect for fall and winter, yet it suggests life and growth (green trees!) for spring and summer. Click the image for a larger view, and see below for links to where I found them.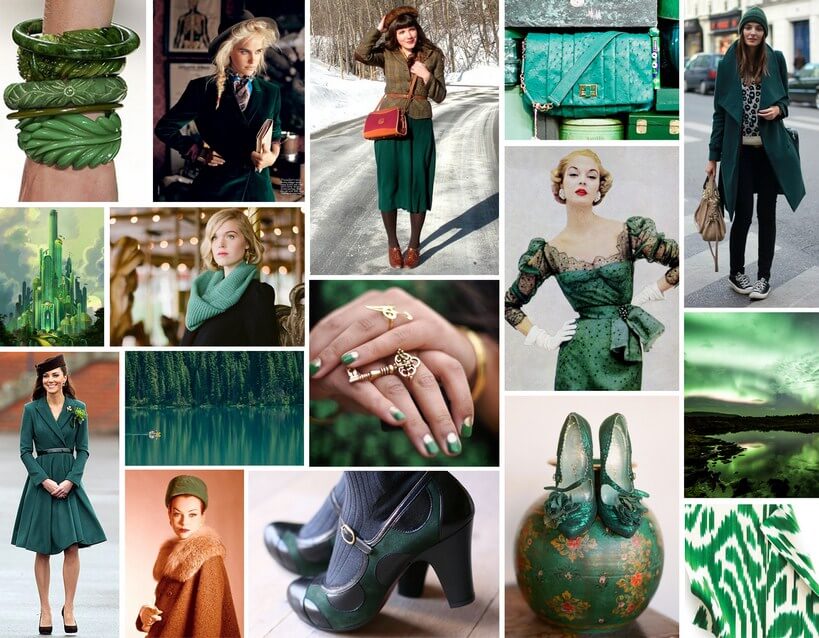 swatch, bracelets, velvet blazer, skirt, purse, coat & hat, Emerald City, scarf, nails, vintage dress, Northern Lights, Kate Middleton, lake & trees, vintage hat, shoes, sparkly shoes, fabric
If you want to hunt down some emerald to add to your wardrobe at a consignment or thrift store, I suggest looking for accessories (jewelry, scarves, purses) and basics (tees, cardigans), as you'll probably have the most luck finding those things. I did see a pretty emerald dress the other day in Your Stuff Consignment Boutique, though, so who knows. You may just get lucky!

How do you feel about the color of the year? Do you like it?