Remember when I said I love avocados? Remember when I said (in that same post) that I love trying weird foods? Well it's true. The day I discovered that avocados can be used in desserts, I had to try it. So I whipped up this avocado pie. When my mom got home, she looked in the fridge and saw the green pie. She asked me what I used to make it green, because the only green food we had in the house at the time was avocados. "If you put avocados in it, I'm not eating it," she said. Now, many years later, it's one of our favorite desserts.
It may sound weird, but trust me, it's delicious. In Vietnam, there's a beverage called sinh to bo, and it's made with avocados, sugar, and milk. In Indonesia, they add chocolate or coffee and call it es apokat. In the Philippines, Brazil, Morocco, and India, avocados are traditionally eaten in sweet rather than savory dishes as well. In many countries, it's mixed with other chopped fruits to make fruit salad.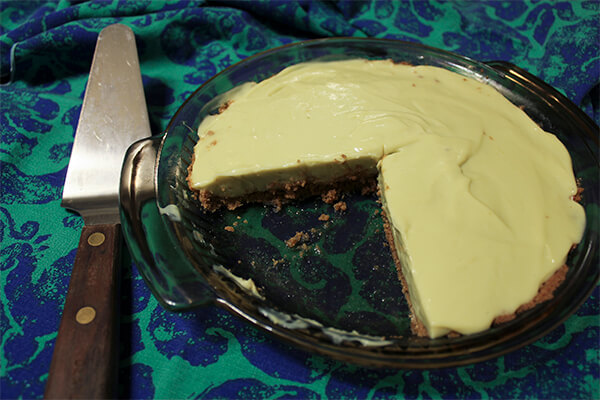 Avocados are a rich, buttery, creamy fruit, so it makes sense that they'd be great for desserts, right? Just forget about guacamole and California rolls for a while. If you like lemon- or lime-flavored desserts, you'll enjoy this. It's similar to key lime pie. Here's the recipe for avocado pie:
Ingredients for filling:
1 large Hass avocado
1/4 cup lime juice
1 14oz can sweetened condensed milk
Ingredients for crust (you could buy a graham cracker crust, but homemade is so much better!):
1 cup graham cracker crumbs (If there are pecans in the house, I'll do 1/2 cup graham cracker crumbs and 1/2 cup ground pecans – delicious!)
1/4 cup brown sugar (sometimes I reduce this or leave it out just to cut down the amount of sugar in the pie. I compensate with more graham cracker crumbs or ground pecans. The sugar does help hold the crust together, though, so if you choose to leave it out or use less, just expect a more crumbly crust.)
1/4 cup butter, melted
Steps:
Preheat oven to 360˚F.
Grind graham crackers (and pecans if you want) in a food processor. Mix the crumbs, brown sugar, and melted butter in a small bowl.
Pour your crust mixture into a pie plate. Press the mixture to the bottom and sides of the plate.
Bake the crust for 10 minutes. It will bubble and the sides will probably melt down a little bit, especially if you choose not to use the sugar.
While the crust cools, scoop the avocado meat into a blender. Add the lime juice and blend until smooth.
Add the condensed milk to the blender and blend again until your mixture is a consistent pale green.
Pour the avocado mixture into the crust. Spread it evenly.
Refrigerate the pie for three+ hours – it's best after it has had time to chill and get a bit firm. Or if you're impatient like I sometimes am, pull it out after half an hour.
Serve with a generous scoop of vanilla ice cream or whipped cream…or both!
(I didn't have ice cream OR whipped cream. Sad! But it was still delicious.)