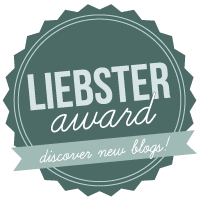 I've been nominated for a
Liebster Award
by
Miss Hannah Marie
! Thank you, Hannah! This is an award that's passed around the small/new blogger community. Every blogger who receives the award nominates 11 more bloggers who have less than 200 followers. Interesting fact: Liebster is German for "beloved."
The rules:
Post 11 things about yourself.

Answer 11 questions from the blogger who nominated you.
Nominate 11 more bloggers.
Ask 11 questions for your nominees.

I think this is a great way to learn about other bloggers as well as discover new great blogs!
11 things about me: (1) I love musicals (movies and live performances) – Wizard of Oz and Mary Poppins were childhood favorites, and I'm a big Fred Astaire fan. (2) I interned with Discovery in 2011 and got to work on web content for Shark Week! (3) I prefer to eat organic, local, and/or fair trade. (4) I love trying weird foods (yup, I tried the haggis in Scotland and the black pudding in Ireland). (5) When flared pants first became popular when I was in middle school, I hated them – I wore "carpenter" jeans. (6) My musical preferences mostly fall under the genres indie rock, indie folk, and vocal jazz. (7) I have a not-so-secret desire to move to the Pacific Northwest (anyone know a company in need of a graphic/web designer?

). (8) I used to be terrified of dogs (even tiny ones), but now I adore them. (9) I've loved art all my life. My profession is graphic design, but I love painting, drawing, and pretty much everything else creative as well. (10) I love to write and was one class away from having a creative writing minor in college. (11) I enjoy hiking (one advantage of living in the foothills of the the Appalachian Mountains)…and climbing trees.
Answers to Hannah's 11 questions:
If you could take a vacation anywhere, where would you go and who would you take with you? – Right now I'm dreaming of Switzerland. I'd take either my sister, my mom, or my friend Hannah because I've traveled with them before and know they're great travel companions.
What is your dream job? – If I were to choose a job outside of my current field, I think I'd go with interior design. I love upcycling, renovating, organizing…and HGTV.
What is your favorite book? – To Kill a Mockingbird. And the Harry Potter series. And everything F. Scott Fitzgerald. I could name books all day. I love to read.
Favorite movie or TV show? – Doctor Who! I may be a fanatic.
Favorite blog? – Delightfully Tacky for fashion, Design*Sponge for home/interiors, A Beautiful Mess for DIY, and DesignLoveFest for design.
What did you want to be when you grew up? – When I was REALLY young, I wanted to be a hair stylist. Throughout most of elementary school, I wanted to be a travel agent. In high school, I got really into video production and wanted to be a post production editor.
What is your favorite article of clothing? I have a purple and blue tie dye skirt that's super comfy, yet really cute. It was my go-to Saturday piece in college, and I still love it.
If you could have lunch with anybody, who would it be and why? – Because "famous" wasn't specified, I'm going to say my closest friends from college because I miss them DESPERATELY!
Favorite food? – avocados, mmmm (one of my favorite recipes is coming to the blog soon!)
Favorite childhood memory? – My family went to Germany and Italy to visit my uncle in the Army when I was 9, and we went to Sandpoint, Idaho and Canada when I was 11 to visit my great grandparents. Both were amazing trips and are probably part of the reason I love traveling so much now.

My 11 nominations (some probably have over 200 followers, but I tried to choose blogs that are smaller – under 1000 I guess – that may have not had as much exposure as some of the better known fashion blogs around. I also wanted to choose blogs I actually enjoy myself):

My 11 questions for you:
What is your favorite color to wear?

How would you spend your ideal day?
What is your weirdest favorite food?
What is the coolest thing that has ever happened to you or that you've done?
mini, knee-length, midi, or maxi skirt – choose one.
How/when did you develop an interest in fashion?
Name three musicians/bands on your playlist.
Do you have a funny childhood memory?
Biggest pet peeve?
Favorite animal?
Where would you go for your dream vacation and what is one activity you'd like to do while there?