I follow a few bloggers that do an end of the month recap on their blog. I always enjoy – it's interesting to see what they're up to, what they're reading, watching, etc. It makes them a bit more real, I guess, and it's a great way for me to find out about other blogs, good books, etc. So…here it goes. Just a once-a-month spin on weekend links.

But first, Have you taken this quick poll yet? Do it (please)!
ON INSTAGRAM - FOLLOW ME!…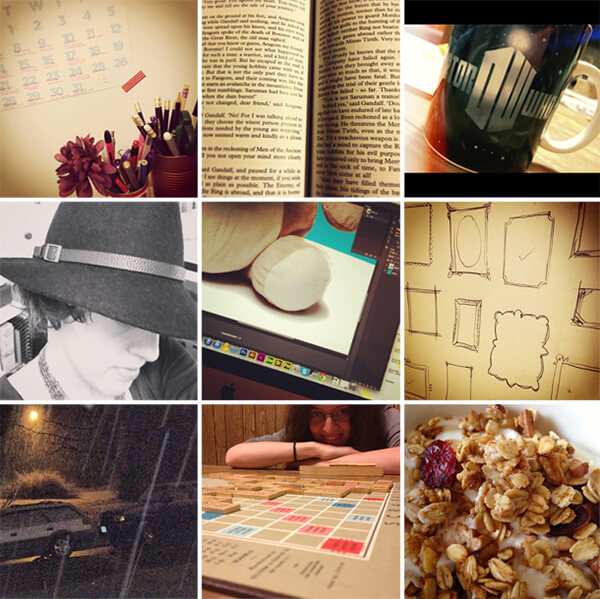 I made a blog schedule for January and stuck to it! February is now printed and ready.
I bought the Lord of the Rings trilogy two years ago intending to read it, but the craziness of school, internships, and projects kept me away from it. I'm finally into it. I've read the first book and I'm part way through the second. Now I hate to put it down!
I love my Doctor Who mug my friend gave me for Christmas! I drink tea or coffee from it on a daily basis.
New hat! Got it on Ebay.
Design, design, design! My time is normally occupied with web design and development, but I do posters, ads, logos, etc., too. This month I started working on some designs to help promote my services to the resale industry! That venture is still a work in progress, but I'm excited about it.
More design! These are for a really cool website I'm working on (I love implementing hand-drawn elements into my designs).
We finally got some snow! It didn't stick around for long, but it was still pretty.
Snow turned to sleet and freezing rain. My friend who lives about 30 minutes out of the city stayed the night with me so she wouldn't have to drive home on black ice. We played scrabble and watched Doctor Who. A fun, much need night with my best friend.
My mom makes THE BEST homemade granola. No, really, it's the best. I won't buy granola anymore.
READING: Lord of the Rings, A List Apart series for web designers, I Break for Yard Sales, and still waiting on the arrival of Blog, Inc. - Amazon notified me 2 weeks after purchase that it's not in stock, and the Ebay seller I bought it from after that has disappeared off the planet.
WATCHING: Downton Abbey! That's about it until Doctor Who starts back up…apart from travel shows on the local PBS station (my weakness! I have an enduring case of the travel bug). I also have a HGTV weakness – Property Brothers, Color Splash, Flea Market Flip, Extreme Homes). Oh, and American Pickers. But I really don't watch that much TV, I promise.
NEW BLOG FINDS: Frolic, Life, etc., Raspberry and Red, So Lead Us There, Day to Day, Virginie's Cinema, The Caffeinated Closet
LUSTING: Madewell colorful spring sneakers, awesome water bottle, fun camera lens, a neat DIY book (with a beautifully illustrated cover), and always and forever, a letterpress.
OH, OH OH, and check this out. My mom found this blog where I was featured as a good source of design inspiration (see #4)! WHAT? Cool!