INSTAGRAM – (follow me @maggarama)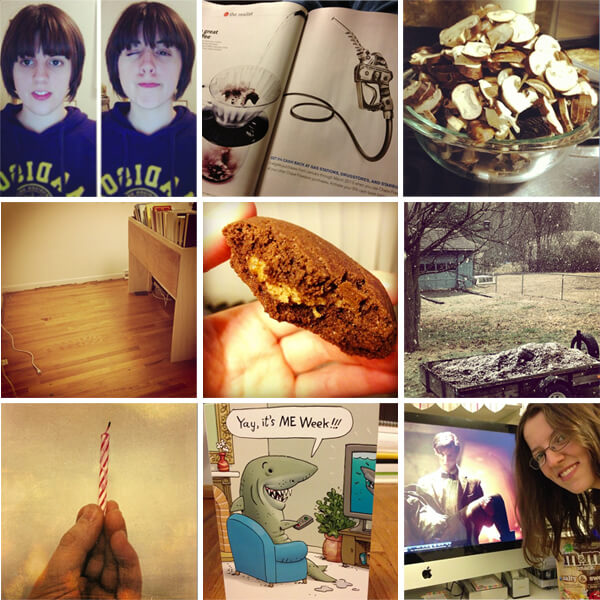 My hair is finally kinda getting long(er)!
This ad placement in a magazine made me giggle. Notice the spout pouring water into the coffee filter on the left page and the position of the gas pump on the right. When I first saw this my brain registered them this as a two page spread rather than separate images.
I've made a lot of risotto this month. This recipe called for SO MANY mushrooms.
I'm ripping out the carpet in my house…solo. It's a nice break from the computer.
I made peanut butter filled cookies for myself for Valentines Day.
Snow! Hopefully the last of the year. I'm ready for spring.
23 birthday candles is evidently over the top, so I just got one.
My sister knows me so well. She got me this birthday card (I love Shark Week).
My friend Jami came over one Sunday afternoon and we had a Doctor Who marathon to catch her up on season 7. We only got halfway through, so we have to plan another marathon. (yay!)
READING – I should be reading Lord of the Rings: The Two Towers, but I haven't picked it up this month. I've been reading a bunch of articles and studies about social media for a project I'm working on. I was recently reminded I still need to read the second and third Hunger Games books.
WATCHING – I'm slightly embarrassed to admit that I've gotten hooked on American Idol this year. You see, it comes on right after Big Bang Theory…which my family watches every night while dinner is being prepared. So yeah, that's my excuse.
NEW BLOG FINDS – Steffys Pros and Cons, Maddie the Coonhound (I've known about this one awhile, but it's just so cute!), Vivaluxury, Blog Milk, Urban Weeds, Wearing It On My Sleeves, The Moptop.
LUSTING – Have you heard of Inkkas? I just discovered them yesterday and I'm in love! They're sneakers made out of beautiful South American textiles. The company, "was founded on the principles of fair trade, philanthropy and authenticity," and 10% of all sales is donated to help protect and preserve the Amazon rainforest (check out this post I wrote on incorporating sneakers into your wardrobe). Also, I'm itching to make a quilt and I want to use this as one of the fabrics. I have the quilt planned out in my head, I just need to get the supplies and get to it.
Have a LOVELY weekend! And happy March!