Since I didn't post Monday, you get a double dose of me today! Plus, I realized I never shared my March Instagram highlights and what I've been up to.
ON INSTAGRAM: (follow me @maggarama)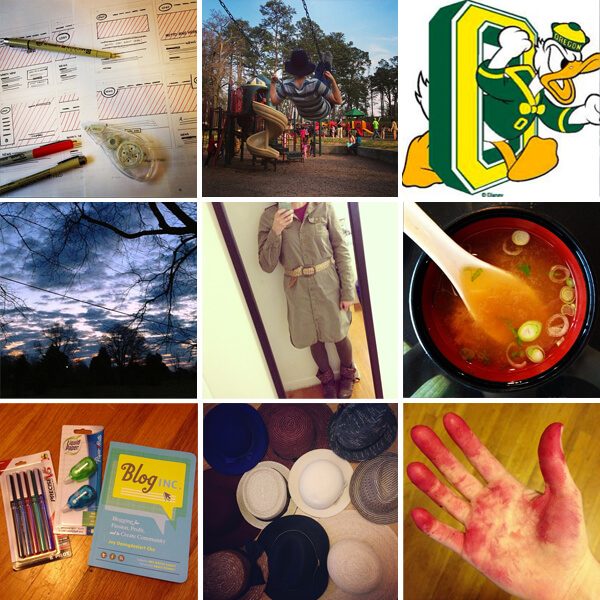 Working on website design/development!
My sister and I went to the park during her spring break. We had to wait a looong time before the swings were free. All the kiddies in town were at the park that unusually warm day.
I got accepted to the University or Oregon Interior Architecture graduate program! It's not likely to happen though, because I'm not having much luck getting an assistantship.
I go to yard sales with my mom every Saturday morning. We're normally up before the sun. It's totally worth it, though, because I've found some pretty awesome stuff.
My St. Patrick's day outfit! I went with a subtle green.
I love miso soup! I've eaten a lot of it lately.
Some goodies – Blog Inc., white out, and my favorite pens.
I have a lot of hats. I need to wear them more often!
No, I didn't murdur a purple-blooded creature. I was cutting up beets to roast for dinner. Yum!
READING: The Omnivore's Dilemma
WATCHING: Duck Dynasty…um, yeah. And DOCTOR WHO! Of course.
LUSTING: high waisted skinny jeans, overalls, long hair, a simple b&w striped short sleeve tee, summery moccasins, this (yum), a Cherner chair, She & Him show, and outdoor adventures…always.