I recently pulled a couple blazers out of the dark depths of my closet hoping that by making them visible I'd wear them more often. To motivate myself even more, I made this inspiration collage with images from around the web of blazer-wearing done stylishly. A summary of the ideas I pulled from the images follows, as well as links to the sources. Click on the collage for a larger view.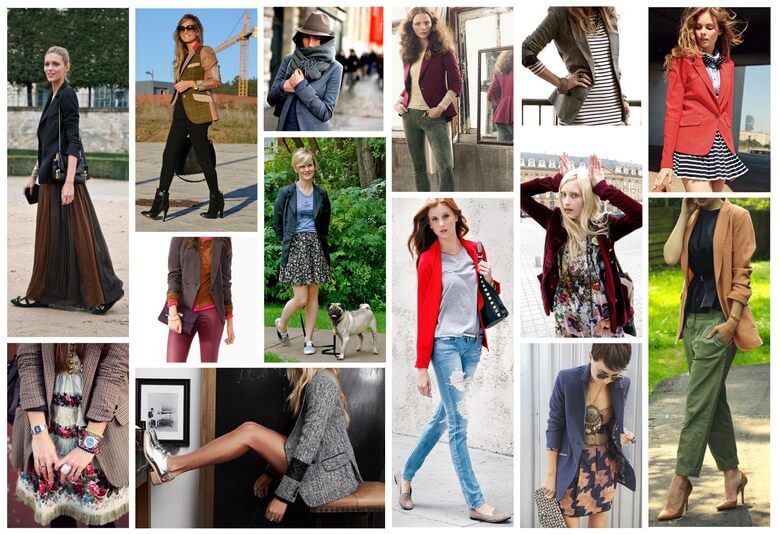 Wear it with a maxi skirt for a casual yet comfy look. Wear it with an above-the-knee a line skirt for a more girly, fun look.
Make a really stand-out blazer stand out even more by wearing it with a neutral one-color outfit (like black).
Layer it up! Add a voluminous scarf and a hat .
Try a chambray shirt . It's still casual, but more structured than a tee.
If the blazer is neutral, ad a layer underneath that pops . Try a deep pink or a neon color.
Dress it down. Wear it with a screen print tee and sneakers . Try some rough denim . Have at least one more polished piece though, such as a skirt or some nice loafers, to keep the outfit from looking frumpy.
Be bold with a textured blazer (velvet, wool). Wear it with fun florals, fringe, and layered on accessories.
Keep the outfit simple and wear stand-out shoes (like those metallic oxfords).
Wear a bold necklace . Bonus points if you also wear a bold pattern.
Pair the blazer with more casual trousers, like chinos .Heels will keep it looking sophisticated.
One great thing about blazers is that most consignment and thrift stores have plenty of them, so you should be able to find one that fits your body and taste if you ever need one. If you can get your hands on the latest issue of Real Simple Magazine, there's an article in it about how to determine if a blazer fits you properly.
Do you have any tips for wearing a blazer – perhaps a way you like to wear them that's not listed above?