Hi guys! To explain the lateness, I had a nice long phone conversation with my brother tonight during which he talked in various accents, we watched THIS and THIS and THIS, and we also discussed my sister's future kids, but nothing more needs to be said about that. Here's what I wore today. It was warm, so I took advantage of the unusual weather and wore this [short, thin] skirt. Lots of pictures today. Have I mentioned lately – I LOVE orange?
craziness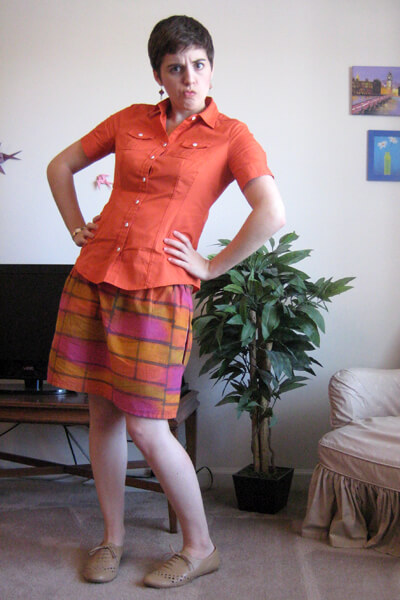 top: Banana Republic via Nart's Conference consignment tour in Dallas, TX; skirt: handmade by me; shoes: Boutique 9 via Amazon (sale!); earrings: Ten Thousand Villages via Your Stuff
Wanna know how to make a skirt like the one I'm wearing (it even has POCKETS!)? HERE is the tutorial I used. Super easy!
Have a FANTASTIC weekend! I'll be exploring downtown, going to a tailgate and football game, going to a local music/food event (to benefit local farming), maybe going to try some bratwurst made by my friend's design history professor(?), eating yummy Mennonite-made doughnuts at the farmer's market, going to church, seeing a mainstage production at my school, and possibly drinking bubble tea/eating cookies/eating the best pizza in town. My sister is visiting – I don't normally have weekends this crazy. We'll see how much we actually fit in.