One of many reasons I enjoy the fashion bloggers that I follow is because they're great with color. Oftentimes I don't have the pieces to recreate an outfit (and I'd rather be original with my outfits anyway), but I can still pull inspiration from them in terms of color combinations and pattern mixing. Tieka is one blogger who has a way with color. I pinned this outfit of hers last fall because I liked the color combo so much. I went shopping recently and got this shirt and skirt, and as I was hanging the shirt in my closet I noticed my orange cardigan and thought "YES! I can finally wear that color combo!"
Check out another great color combo and this sweater styled differently here. And three cheers for me – just look how much my hair has grown since then!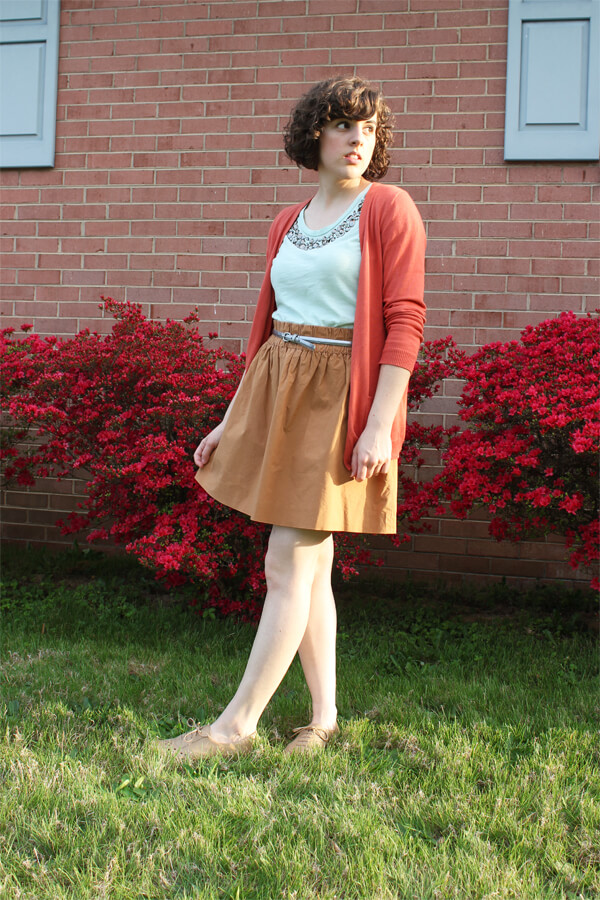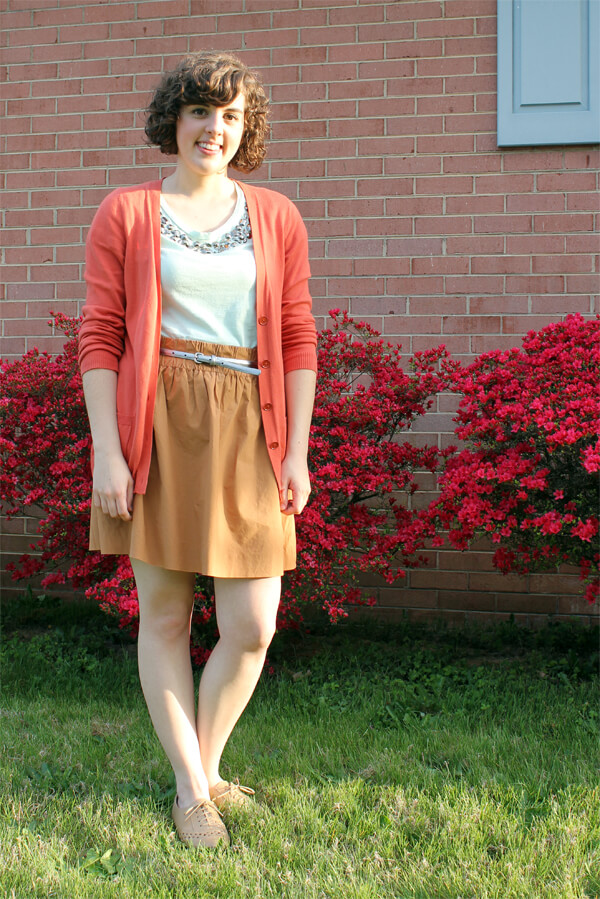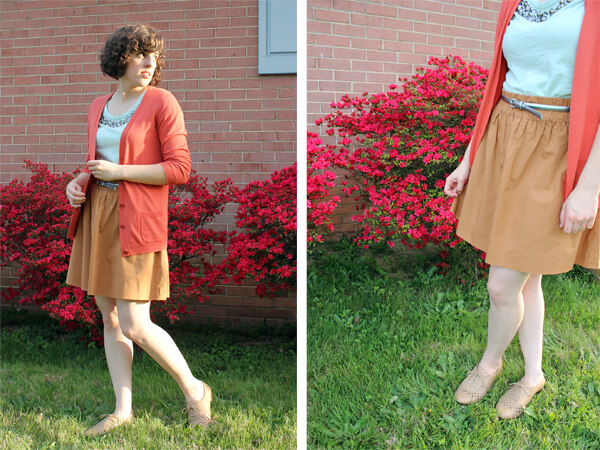 I got to thinking about these colors…and I thought too much. I usually refer to the color of this skirt as camel, but when I think camel, I think THIS. So tawny, perhaps? Eeeh, that word is weird. Caramel – yeah, I suppose that'll work. And the shirt. It's mint…or mint cream as Wikipedia calls it…or honeydew…or sage. And the sweater is orange…or pumpkin or persimmon, depending on the lighting. Commonality? They're all foods (once you eliminate the camel and tawny). My outfit is caramel, mint, and orange. Or caramel, honeydew, and persimmon, if that sounds more appealing. I guess it's easiest for us to describe a color by paralleling it to something we encounter in our everyday lives, and being that humans typically eat many times a day, it's unsurprising that we associate colors with food.
ANYWAY…there's my random meandering thoughts for you.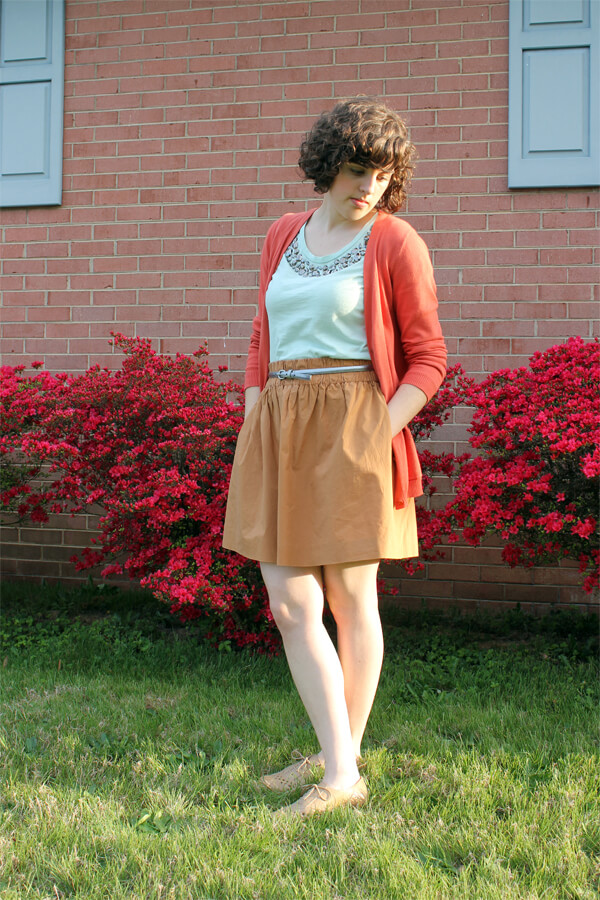 Shirt: secondhand Merona
Cardigan: secondhand Talbots
Skirt: secondhand J. Crew
Shoes: Boutique 9 (Nine West)
Belt: secondhand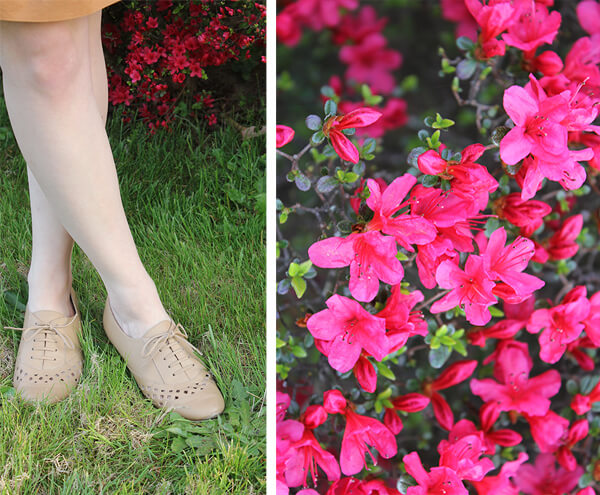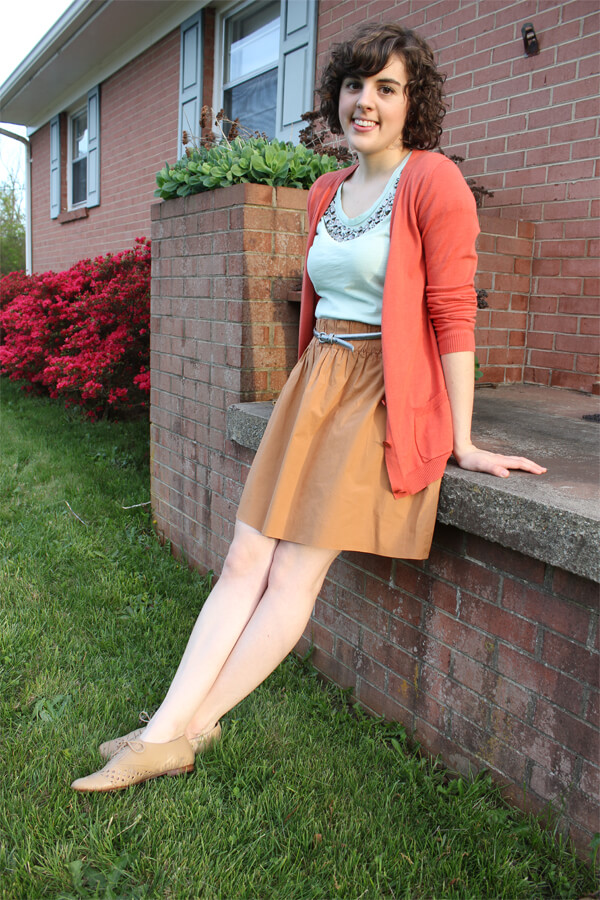 I couldn't resist taking pictures by these bushes. They're so pretty! There were a gazillion bumblebees buzzing around them, but bumblebees are like miniature flying teddybears. I would consider myself to be somewhat of an arachnophobe, but bees typically don't bother me. Hornets or an angry swarm of bees would be a different story. My sister probably wouldn't have come within twenty feet of those bushes, though.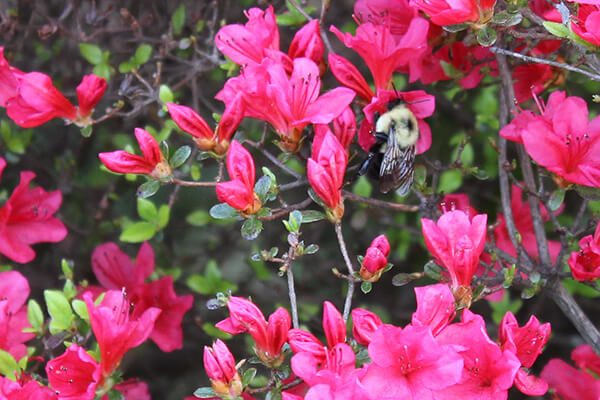 And just a reminder,
If you have my blog bookmarked, be sure to change that bookmark to www.jalfrezi.com.