If you live in or near Massachusetts, you're in for a treat. For today's shopping guide, I interviewed Pam, owner of Plum Consignment in Beverly, MA. Those photos alone should pique your curiosity…aren't they gorgeous? The natural light in her store is AMAZING and I love the industrial (that pipe shelving!) and vintage mix of decor. I want whoever designed the space to design a studio for me! The events the store hosts sound like a ton of fun, and after this interview, I'm convinced it'd be hard for me to resist spending hundreds in her store. Be sure to check out some more photos of the store on their Facebook page. And now for the interview…
Plum Consignment
Address: 156 Cabot Street, Beverly, MA 01915
Contact: (978)853-6623
Website: www.plumconsignment.com
1. Tell us a bit about you. Fun fact?
I love to shop for bargains, cannot put on eyeliner to save my life, cleaning relaxes me and will think of any excuse not to go to the gym.
2. Why did you decide to start a consignment store?
I was aggravated with the typical consignment shopping experience. I love finding bargains, but can't stand having to dig through bins or racks of unsized, unorganized, outdated clothes. I wanted to create a unique consignment shopping experience different that what most people are used to. The shop is spotless (we promise no smell of moth balls or dust bunny sightings!), the racks are impeccably organized and the prices are amazing. I like to say that Plum has a boutique feel with thrift store pricing.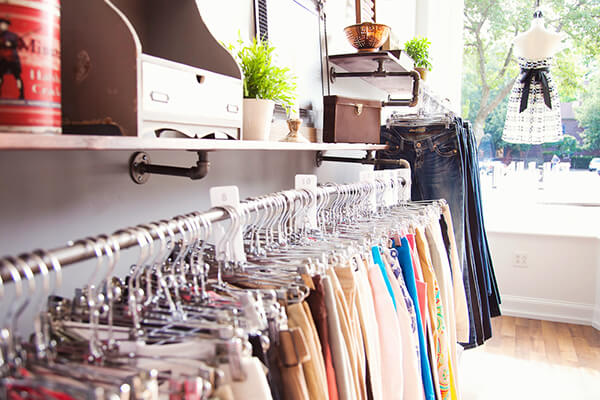 3. What's the best part about your job?
I love meeting new people everyday and having conversations with my regular customers. It makes me happy that I'm helping people recycle and save money. I get just as excited about their bargain finds as they do. I love that people trust my opinion of how something looks on them, I never let anyone go home with something that doesn't look awesome on them! Its not worth the sale if I know they won't be happy with it once they get home.
4. What types and/or brands of things could a shopper find in your store?
You'd be likely to find such brands as J Crew, Banana Republic, Gap, Seven and more. We aren't picky about brand name labels as long as it is in great condition and currently in style!
5. To give readers a better idea of what great things they can find, what is one (or some) of your favorite pieces in your store right now?
Jeans are always my favorite thing to find on consignment, we have a lot of designer jeans (Seven, Joes, Diesel, etc) priced at $30 each. We've been getting in a ton of adorable spring & summer dresses in amazing spring colors and patterns! I also love that we are lucky enough to feature handmade items (jewelry, greeting cards, hats, hair ties and headbands) made by local artists.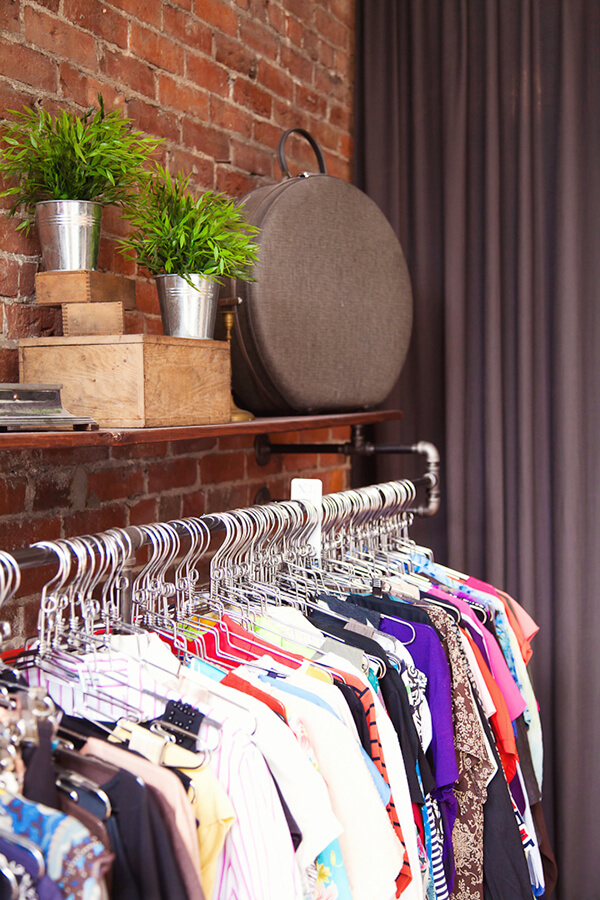 6. What is one thing that sets your store apart from the rest/makes it unique?
Plum Consignment has more of a boutique feel and focuses heavily on superior customer service. We host events at the shop such as jewelry and jean swap and "Advice" nights where people can scheuld short sessions with hair stylists and makeup artists.
7. What's the best part about being in the location (city/state) your store is in?
We're located on a street in downtown Beverly with 3 other consignment shops. It's a great location because parking is fairly easy, theres tons of foot traffic and people make a day of shopping at all 4 of the stores, because no 2 are the same. The building we're in was built 1908, so it still has a ton of great architecture and character – large windows, high ceilings, exposed brick, etc. It ties nicely into shops theme vintage/antique decor and what's old is new again theme.
8. Quick! You have one minute to convince someone why they should start shopping secondhand…go!
The other day I wore an outfit that was purchased solely from second hand shops (Steve Madden boots, Citizens of Humanity jeans, Love on a Hanger tank, Ann Taylor cardigan, local boutique necklace) I roughly figured that it would have cost over $250 if I had purchased the items at their retail price. I paid just under $50 for everything!
9. Do you have a website, Facebook page, Twitter, or blog where readers can learn more or stay informed about events, sales, etc.?
Website – plumconsignment.com
Facebook – facebook.com/PlumConsignment
Twitter – twitter.com/PlumBeverly
Pinterest – pinterest.com/plumbeverly
Instagram - instagram.com/plumconsignment
Yelp – yelp.com/biz/plum-consignment-beverly
Thanks Pam!
If you'd like to offer some input on locations (cities/states) I should cover in the future or if you are a resale store owner and would like your shop featured, please let me know in the comments.