I've decided I'm going to try out a new approach to this blog. I find that I'm really unmotivated to take pictures of myself everyday…that's really my only excuse for not posting as of late. I love putting together outfits and I love sharing them, I just don't love taking pictures of myself.
So I've started building up a photo inventory of my closet. Rather than "modeling" my outfits, I'm going to put together collages similar to what users on Polyvore put together…except I'll be using images of my own clothes.
I realize this is really different from what the typical fashion blogger does. I also realize this means you aren't seeing how the outfit looks on a real person. But everyone is a different shape and size anyway, and a certain style shirt or skirt or dress may look totally different on you than it does on me. I'm sharing to offer inspiration, and hopefully these pictures will still offer that. I'll always explain the pieces and their fit in a description along with the photo so you can get a better idea of how the outfit actually looks when assembled.
So to kick off this new approach, here's the outfit I wore today: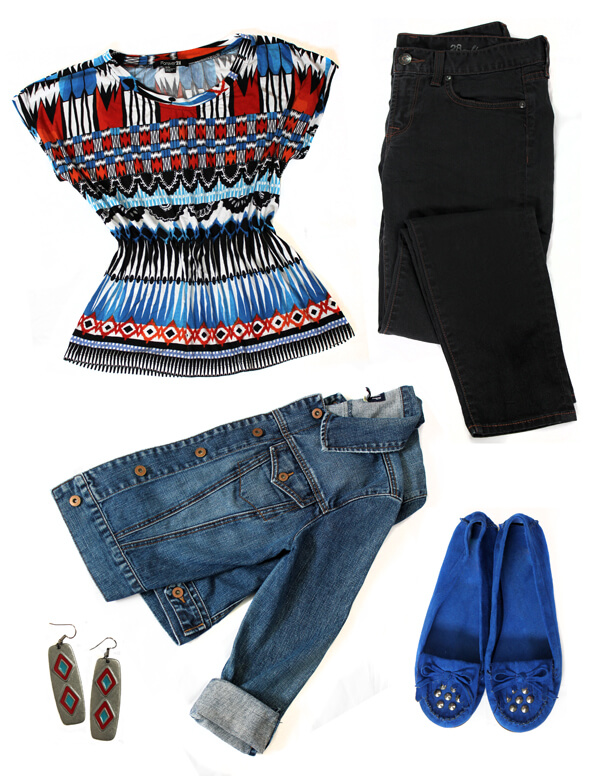 Top: secondhand Forever 21. This tee has a loose and relaxed fit. It's the type of thing I'd normally belt. Since I knew I'd be wearing my jacket all day anyway, I decided to go without a belt.
Jeans: secondhand J. Crew. I loooove these black straight-leg jeans. They're just the right length on me and not too snug, so they're still work-appropriate.
Jacket: secondhand Gap. I've been living in this denim jacket lately. I've had it since middle school, but I'm pretty sure it's gotten more use over the past month than it ever has before. I typically roll the sleeves to keep them out of my way.
Shoes: secondhand Aerie. This is the first time I've worn these. They're super cozy…and they remind me of the TARDIS.
Earrings: secondhand. They mimic the color and patterns in my shirt. Perfect.