Look how GREEN it is behind me! Isn't that exciting? I love when the world starts to turn green again. And pink and purple and yellow.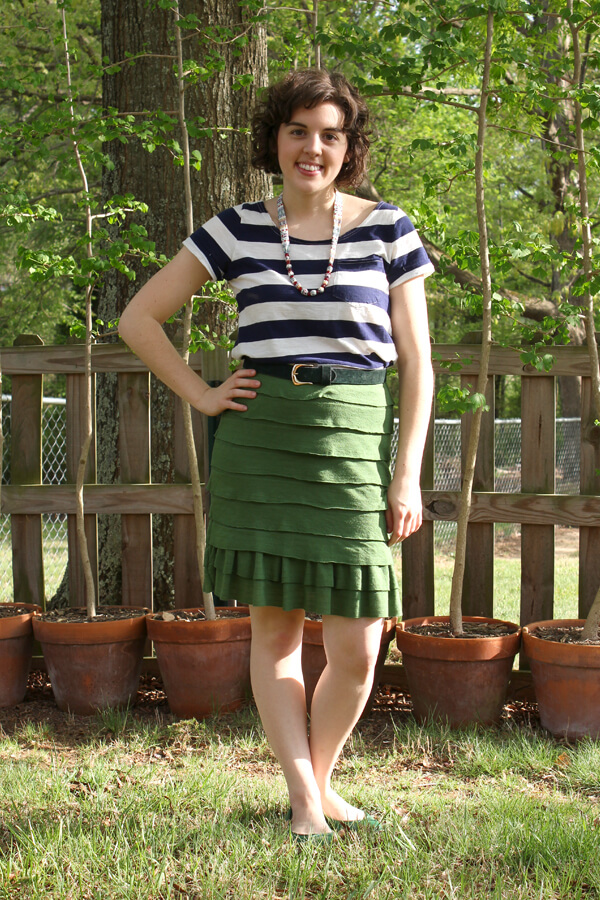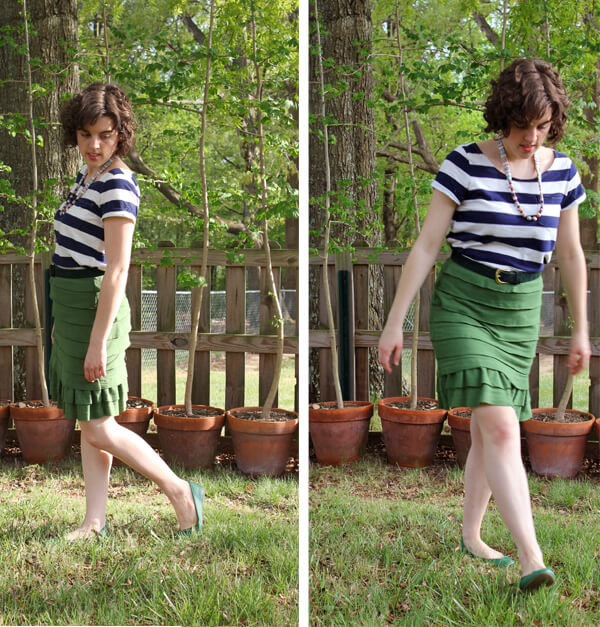 I had made a note to myself in my little blog notebook to do an outfit with a green skirt and a striped shirt. I'm assuming I made that note because I saw something similar and liked it, but I don't remember the original inspiration at all. So I looked in my closet to see what i could do, and this is what I came up with. I wasn't sure I liked it before putting it on, but I actually think it turned out nicely, if I do say so myself.

I also LOVE this necklace, so I was excited that it worked so well with this outfit. So this may or may not look like my original inspiration, but who cares because the point of this blog is to BE an inspiration, right?
On a totally random note, do your underarms ever hurt when you're sick/have been sick? I think I have a swollen gland under my arm…must be from the little sickness I had last week.
And on another totally random note, you know those people who can do really graceful jumping pictures? "Why yes, I can effortlessly leap like a deer. I have killer ballet moves." I'm NOT one of those people. The days when I'm ambitious enough to put my camera on continuous shoot and do some jumping pictures, I have to do a hundred before I get even one where I don't look ridiculous. I tend to look like I'm zombie-walking or I just got shot in the chest…or a combination. Below is the best of 100. Pitiful.
To see another way I've styled this skirt, check out this post, and to see how I styled this shirt in a different color, take a look here.
top: secondhand Mossimo
skirt: secondhand Max Studio
shoes: secondhand J. Crew
belt: secondhand
necklace: secondhand
And just a reminder,
If you have my blog bookmarked, be sure to change that bookmark to www.jalfrezi.com.