Saturday, it was nearly 90 degrees outside, so I was stupid and wore a flannel shirt. Today it's super windy, so, of course, I wore a skirt that's definitely a bad choice for a windy day. Also, I stepped outside without my jacket before I realized I definitely needed the jacket. It was quite chilly. I obviously need to check the weather before I get dressed.
I wore this top/skirt combo earlier this summer, and some friends decided that I was dressed like a schoolgirl lumberjack, or something of that nature. Not sure if that was meant to be a compliment or not, but I'm okay with it.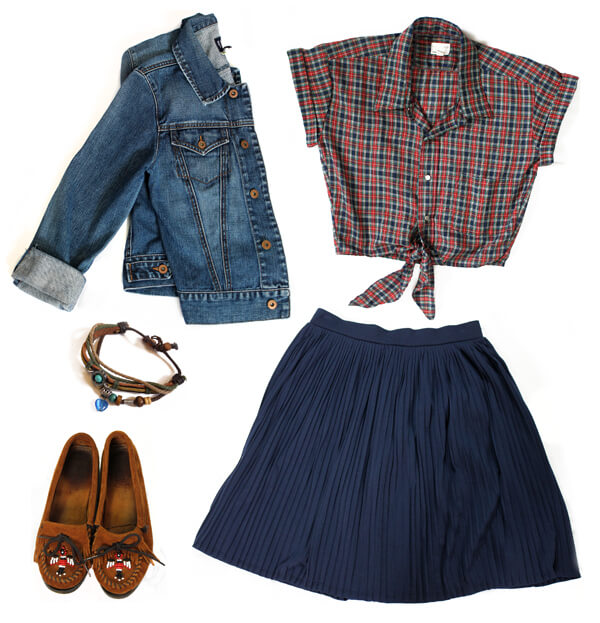 Top: secondhand Urban Threads. This shirt is a cropped top. I can really only wear it with this skirt unless I want to expose my midriff, and I don't. But I really like it….even though it gets limited use.
Skirt: Target. This skirt hits at my natural waistline and falls to right above my knees. I love pleated skirts, though this one was probably more trouble than it's worth. I bought in a small…was too little…exchanged for a medium…was too big. So I cut off about an inch of fabric from the side of the skirt where the seam is and sewed it back together. I'm sure you can guess that altering a stretchy knit pleated fabric like this isn't easy, but I succeeded. And I confess, I'm proud of that achievement.
Jacket: secondhand Gap. My ole trusty denim jacket that I've had forever.
Shoes: secondhand Minnetonka. My ole trusty moccasins. One of four pairs of Minnetonkas in my closet, and I still want more.
Bracelet: Covent Garden, London. I studied abroad in London in 2010, and I loved going to Covent Garden just to wander by myself. It was close to where I was living and was a great way to escape my study abroad group and be "alone." The tube made me nervous, so I wan't willing to venture off by myself unless it was within walking distance.