This week for the Secondhand Shopping Guide series, we're going to Ohio. Paula, owner of Encore Resale in Canton, Ohio, is sharing a glimpse of her fun and fashion-filled shop. The history of her store is really interesting, and I love that her 92-year-old mother still works there – that's love and dedication! Her business just started a really unique venture in the world of resale. Read on to find out more!

Encore Resale
Resale Shoppe for Designer and Better Women's & Men's Fashions
Address: 4125 Cleveland Ave. NW, Canton, Ohio 44709
Founded: 1973
Contact: (330)492-7004
Website: www.encoreresalefashions.com
1. Tell us a bit about you. Fun fact?
We are Encore Resale Fashions in Canton, Ohio. Thank you for allowing us to share our resale journey of 40 plus years. In addition, we are just introducing our newest venture in the world of resale, Encore on Wheels. We are providing a traveling fashion show and shopping market (boutique style) to the senior citizen market. We travel to the senior independent and assisted living centers by appointment. So far the reviews are encouraging beyond our original projections.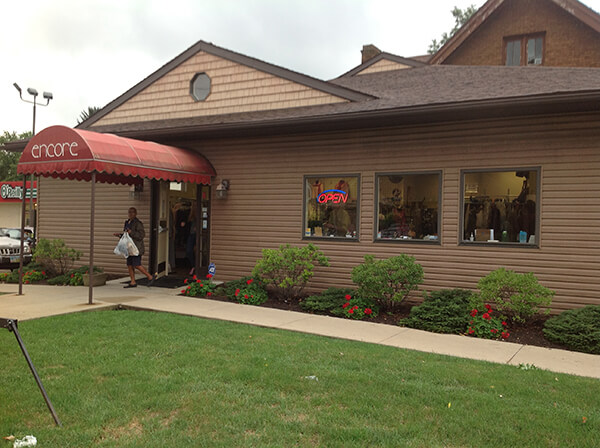 2. Why did you decide to start a consignment store?
Forty years ago, two sisters, Ruthmary and Joyce, decided to start a consignment store. Both their husbands were accounting types and required the girls to have a projected sales and expense plan. Their claim to fame as has been told at each and every family gathering for decades goes like this: They both ponied up $500.00 and recovered their individual investment PLUS before they opened the doors for business. People in the community who did NOT receive a letter introducing the store and asking for consignments wondered WHY their clothes were not GOOD enough for the new consignment store. We continue to operate in the pay as you go fashion and it makes for many sleep-filled nights.

My mother says my aunt started in business because she liked to wallpaper. The old house on the main drag they choose to locate in had several walls in need of pretty coverings. This is the original creator of the resale phrase, "if it is so so, say no no". Way to go Aunt Joyce, many quote your original thoughts and you have created a great standard to help the intake of inventory process. My mom says this was her retirement job, and at 92 can still can be seen selling in the store every weekend and entertaining all those who come in contact with the 92 year old, 5'0″ in her 4 inch heels (really) and 98 pounds.
3. What's the best part about your job?
The absolute best part of this job is the joy it provides to so many. We say "Experience Encore" and see what the buzz is all about! A reality show about the inner worlds of shopping should be shot in a busy consignment/resale store because there is no better way to demonstrate the real world of shopping like this 2nd tier industry. The icing on the cake is that we can make a green living and be a proud member of the community in which we serve.
4. What types and/or brands of things could a shopper find in your store?
Encore's niche is selection. We carry Ralph Lauren, Jones, NY and Co. Tan Jay, Peter Nigard, Coldwater Creek, St. John's, Saks, Coach, LV, Target, J.Crew etc.etc.etc. We bill ourselves as a clothing and department store, and if somebody wanted a size 10 black trouser, they would likely have 10 choices of manufacturers/label/designers to select from.

Encore also carries a wide product category. We are an excellent source for new bridal gowns with wallet friendly prices. Also, we carry several rooms of business and casual attire for men, women, and junior shoppers.
8. Quick! You have one minute to convince someone why they should start shopping secondhand…go!
Experience Encore. We love selling and recycling clothes and accessories. We continue to search for the best way to make our customers and consignors come in for fun and fashion. As a result, we operate a fun retreat for clothing and accessories searches.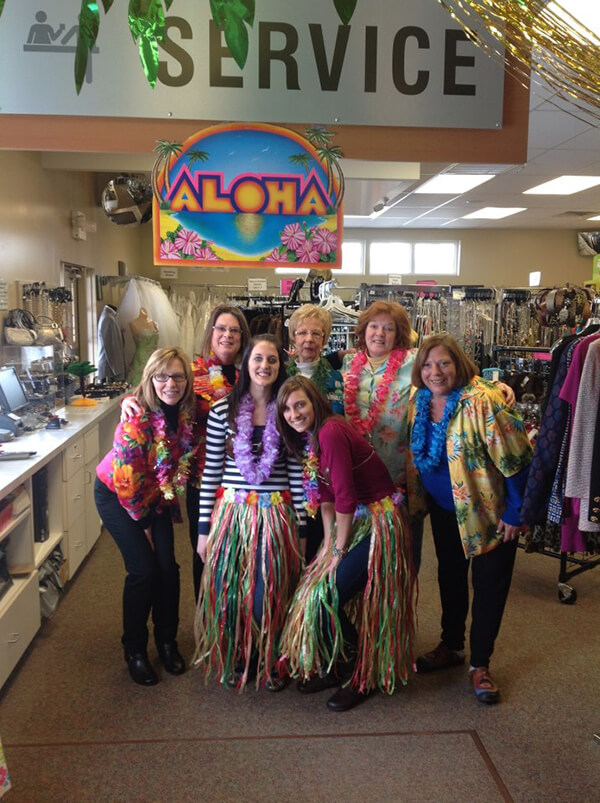 9. Do you have a website, Facebook page, Twitter, or blog where readers can learn more or stay informed about events, sales, etc.?
Website: www.encoreresalefashions.com
Facebook: #/encoreresalefashions
10. Any last comments?
With 25,000 resale/thrift/consignment stores in our country, Encore welcomes the growing and new way to shop and save for current fashion trends at yesterday's prices. We are proud to have grown up in the pioneer time of resale, but we are much more excited about the fact that we are still in business serving our customers and consignors and….God- willing, we will continue to thrive as we serve the clothing needs of the present and future recycling shoppers.
Thanks Paula!
If you'd like to offer some input on locations (cities/states) I should cover in the future or if you are a resale store owner, please let me know in the comments or go enter your location in this poll .