Today is the first of my new series, The Secondhand Shopaholic's Shopping Guide (I'm still deciding on an official name for the series, so we'll just go with that for now).
Sorry it's a bit late – I was ripping out carpet again today.
The first store to be featured in this series is my personal favorite and the reason this blog exists, Your Stuff and Kids' Stuff Consignment Boutiques in Danville, Virginia. Kids' Stuff opened in 1993 and Your Stuff opened in 2002. I interviewed the owner, Sylvia Josey, to learn a bit more about her and the store (well, I know her rather well, so I interviewed her so YOU could learn more

)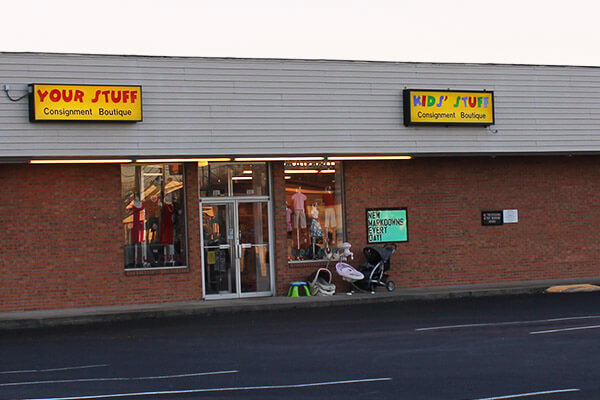 Tell is a bit about you. Fun Fact?
When we were kids growing up in New York City and Washington DC, my mom shopped for us at consignment shops. In New York City, she found a shop with mostly wealthy clientele, so I got some very nice frocks and toys. As I got older, I worried that my friends might see me in the second hand shops, but my mother snorted and said "well if they do, they will be here too!"
Why did you decide to start a consignment store?
I really just needed a project for a college assignment. I had to go through all the steps to open a business, including finding a physical location and researching required permits and licenses. I chose a consignment shop because the inventory was free, thus simplifying my project and lowering projected expenses. I didn't really intend to do it. I justed wanted my A grade (which I got). Then ten years later, I said "why not?"
What's the best part about your job?
It's like Christmas everyday. We never know what someone will bring in the shop.
What types and/or brands of things could a shopper find in your store?
Twenty years ago, I started out with Kids Stuff, then ten years ago, I rented the space next door and opened Your Stuff. Now I have everything except furniture. I figure one day I should open Home Stuff, but it's not in the cards right now. As far as brands, we accept anything from Target on up to Louis Vuitton as long as it is cute, current and clean. Our consignors bring stuff from foreign countries even!
To give readers a better idea of what great things they can find, what is one (or some) of your favorite pieces in your store right now?
Right now, I really like the pewter ColeHaan handbag in Your Stuff, and I really like the wooden dollhouse from KidKraft in Kids Stuff. I hardly ever have time to look through the clothes for myself. In addition to our sales staff we have three full time employees pricing incoming goods all day, so it is hard to keep up with!
What is one thing that sets your store apart from the rest/makes it unique?
I'm a neat freak so my shop is usually very organized.
What's the best part about being in the location (city/state) your store is in?
Since my store is in a small city of less than 50,000, our rent is lower than in larger cities. This allows me to afford more space and offer a wider variety. Many consignment shops in big cities only offer designer brands, but we even have Mossimo from Target.
Quick! You have one minute to convince someone why they should start shopping secondhand…go!
I once heard someone say "There are already enough amazing clothes in the world!"
Do you have a website, Facebook page, Twitter, or blog where readers can learn more or stay informed about events, sales, etc.?
Website: www.yourstuffkidsstuff.com, Facebook: www.facebook.com/yourstuffkidsstuff, Twitter: @yourstuffkids
Any last comments?
Remember when I said as a kid I was worried someone would see me in a secondhand store? Well in junior high school, one of the very popular girls in my class was bragging about her shirt she got at a yardsale for 25 cents. It was then that the light bulb went off in my head and I thought "That's what I need to do…I need to BRAG about my finds!"
Thanks, Sylvia!
Danville isn't a big city, so just to give you some perspective on its location, here are some nearby, more well-known cities:
Greensboro, NC: 1 hour

Winston-Salem, NC: 1 hour 20 min
Roanoke, VA: 1 hour 30 min
Raleigh, NC: 1 hour 45 min
Charlottesville, VA: 2 hours 30 min
Charlotte, NC: 2 hours 30 min
Richmond, VA: 3 hours
Norfolk (VA Beach): 3 hours 30 min
I personally think it's worth the drive if you live within a few hours or if you are visiting or passing through the area. It's an amazing store. Danville itself has enough to do to make a fun day trip. It has an 8 mile river walk trail, the Tank Museum, an art/history museum, a science center, and a fun to explore antique mall. There are also many delicious local eateries - The Brown Bean (a great lunch spot attached to a cute home/garden/gift store), O'Kelly's Deli and Pastries (so good they expanded their first location AND opened a second…one of them is right down the street from Your Stuff & Kids' Stuff), Jake's on Main (a downtown bar/restaurant that supports local food), and Main Street Coffee Emporium (coffee, sandwiches, and sweets).
If you'd like to offer some input on locations (cities/states) I should cover in the future, you can (and please do!) let me know in the comments or go enter your location in this poll .